Dr. Yalda Safai, MD, MPH
Psychiatrist
ALUMNI OF:
St. George's University School of Medicine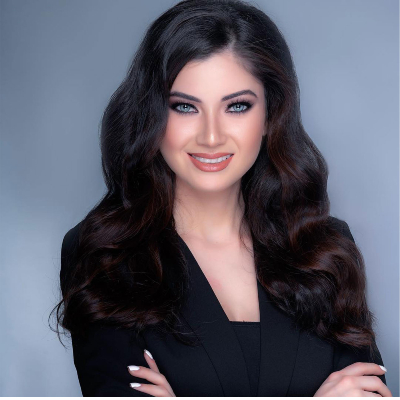 Expertise
High Functioning Depression
Amnesia
Anorexia Nervosa
Antisocial Personality Disorder (ASPD)
Anxiety
Aphasia
Asperger Syndrome (AS)
Attention-Deficit/Hyperactivity Disorder (ADHD)
Autism
Avoidant Personality Disorder
Binge Eating Disorder
Bipolar Disorder
Body Dysmorphic Disorder (BDD)
Borderline Personality Disorder (BPD)
Bulimia Nervosa
Dementia
Dissociative Fugue
Dissociative Identity Disorder
Drug Abuse
Eating Disorder
Fragile X Syndrome (FXS)
Hypersomnia
Insomnia
Learning Disability
Mood Disorders
Munchausen Syndrome
Narcissistic Personality Disorder (NPD)
Obsessive-Compulsive Disorder (OCD)
Panic Disorder
Persistent Depressive Disorder
Pervasive Developmental Disorders (PDD)
Phobias
Postpartum Depression (PPD)
Posttraumatic Stress Disorder (PTSD)
Premenstrual Dysphoric Disorder (PMDD)
Psychotic Disorder
Rape and Sexual Assault
Schizoaffective Disorder
Schizophrenia
Seasonal Affective Disorder (SAD)
Sleepwalking
Speech Disorders
Tardive Dyskinesia
Tics
Wilson-Turner Syndrome
Treatment Orientation
Work experience
Oct 2017-Oct 2021
New York Medical College-Metropolitan Hospital Center, New York City. Psychiatry resident
Feb 2020- Present
ABC News Medical Unit, New York City, NY. Medical contributor
April 2020-Oct 2021
Waterbury Hospital, Waterbury, CT. Staff psychiatrist (per diem)
Dec 2020-Oct 2021
Eastern CT Health Network-Manchester Memorial Hospital, Manchester, CT. Staff psychiatrist (per-diem)
Oct 2021-Present
Happier Living Tele Psychiatry NY/CA/FL. Contractor psychiatrist
RESEARCH EXPERIENCE:
2008-2012: The Spine Institute at Santa Monica
Student researcher; Assisted with rat surgeries, basic science research, and collecting data.
2009-2010: Research at the Jules Stein Eye Institute
Recruiter for a study on the correlation between intake of certain vitamins and the development of Glaucoma later in life.
2010-2012: Cedars-Sinai Medical Center
Research associate in the Department of Spine Surgery/ Spine center.
VOLUNTEER EXPERIENCE:
Summer 2009: Volunteer in Central America
Volunteer; Spent 20 days in the rural parts of Costa Rica and Panama providing medical attention and setting up clinics in different rural areas.
Summer 2012: Volunteer in the Amazon Rainforest
Volunteer: Spent 2 weeks in the Amazon Rainforest setting up medical clinics for those in remote areas.
Summer 2014: Clinical Training in Thailand
Student: Completed clinical training at Siraj Hospital in Bangkok and traditional Thai medicine in Krabi, Thailand.
Spring 2015: International Student Volunteers
Finished master's in Public health by doing 6 weeks of teaching basic healthcare to school-aged children in remote areas of Indonesia.
Education
2012-2017
Degree: Medical Degree – St. George's University School of Medicine.

---

2012-2013
Degree: Masters in Public Health – St. George's University School of Public Health.

---

2007-2010
Degree: Bachelors of Science Major: Psycho-Biology, Minor: Near Eastern Studies
– University of California Los Angeles

---

2005-2007
Irvine Valley College, Saddleback College, Orange Coast College
CERTIFICATIONS & LICENSURE
NY State Medical License
2022 – 2023
FL State Medical License
2021 – 2025
CT State Medical License
2020 – 2024.
CA State Medical License
2019 – 2023
In-Network Insurance
Dr. Yalda Safai, MD, MPH, describes herself as durable, adaptable, and easy to work with. She has numerous years of volunteer experience setting up medical clinics in rural areas, providing medical attention, and teaching healthcare to school-aged children in the United States, Central America, Indonesia, and Thailand.
Dr. Yalda Safai, MD, MPH, is a psychiatrist in New York City. She completed her undergraduate degree in Psychobiology from the University of California Los Angeles and went on to do a dual MD and MPH program at St. George's School of Medicine. She completed a Master's in Public Health along with her medical degree to pursue a career in global mental health. She did her residency training at New York Medical College. She currently resides in New York City and is a contributor to ABC News Medical Unit, focusing on delivering accurate medical information to the general public. She has contributed to numerous news agencies, such as ABC News, Good Morning America, Fox News, NewsNation, and Dr. Phill She also reviews medical articles for Medical News Today and HealthLine.