Dr. Aarti Chhatlani, MD Psychiatrist, is no more associated with SavantCare Inc.
Providers In Redondo Beach Mental Health Clinic
Dr. Aarti Chhatlani, MD

Psychiatrist/Telepsychiatrist

(A154765)





12 Reviews
4.92
ALUMNI OF:
Case Western University, Residency in General Adult Psychiatry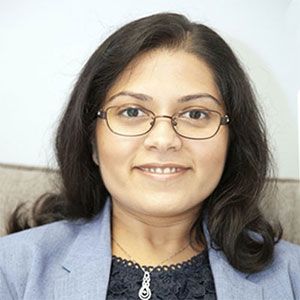 Expertise
Depression
Bipolar depression
Grief
PTSD
Trauma
Mood disorder
Impulse control disorder
Anxiety
Anger management
Psychosis
Elderly persons disorders
Stress
Insomnia
Treatment Orientation
Mindfulness
Coaching
Emotionally focused
Psychoanalytic
Psychodynamic
Dialectical
Cognitive behavioral therapy
Strength-based
Solution-focused brief
Positive psychology
Work experience
Research Co-investigator at the University of the West Indies, School of clinical medicine and research, Department of Internal Medicine Nassau, Bahamas.
Research assistant at the Columbia Presbyterian Hospital/ Neurological Intensive Care Unit.
Teaching Assistant for psychiatry clerkship rotation at MetroHealth Case Western Reserve University
Education
Florida International University – BA in Psychology
American University of The Caribbean School Of Medicine – MD
Case Western University, Residency in General Adult Psychiatry
Affiliations and certifications
Board certified in Psychiatry by American Board of Psychiatry and Neurology
ECFMG certificate and BLS certification by American Heart Association
Affiliated with Neuroscience Educational Institute
American Psychiatry Association
Delta Epsilon Iota
Awards and honors
National Residences Hall Honorary Award, Department of Housing and Residential Life (08/2008) (FIU), Miami, FL, USA
Excellences Muaro Leadership Award and Scholarship, Delta Epsilon Iota Academic Honor Society, Miami, FL, USA
In-Network Insurance
Healthnet Inc
Tricare Inc
Aetna Inc.
MHN Inc.
Blue Shield of CA Inc
Alignment Health
Humana Inc
Cigna Inc
Optum Behavioral Health
United Health Care Inc.
Medicare Inc

Aarti Chhatlani, MD is an adult psychiatrist at Savant Care, Inc. She graduated with a BA in Psychology from Florida International University and completed her residency training at Case Western Reserve University MetroHealth Program.
Dr. Aarti Chhatlani has vast experience in treating a wide range of complex mental problems including Major Depressive Disorder, OCD, panic disorder, anxiety, etc. She has written several medical publications, collaborated in many research projects, and has mentored medical students and junior residents. Her future goal is to develop individualized treatment plans to address her patient's mental and physical health.
Publications
Tampi RR, Chhatlani A, Ahmad H, Balaram K, Dey J, Escobar R, Lingamchetty T. Sub- stance use disorders among older adults: A review of randomized controlled pharma- cotherapy trials. World J Psychiatry, September 2019; 9(5): 78-82.
Dasarathy J, Young J, Chhatlani A, Raddock M, Tampi RR, Alcohol use disorder: How best to screen and intervene, J Fam Pract. January-February 2019; 68(1): 35-39.
Chhatlani A, DeOreo E, Farheen SA, Manikkara G, Setty MJ, Tampi RR, Anticonvul- sants as monotherapy or adjuncts to treat alcohol withdrawal: a systematic review, An- nals of Clinical Psychiatry, November 2018; 30(4): 312-325.
Chhatlani A, Farheen SA, Manikkara G, Setty MJ, Tampi RR,Use of Cariprazine in Psy- chiatric Disorders: Systematic Review, Annals of Clinical Psychiatry, November 2018; 30(4): 326-334.
Dangayach NS, Grewal HS, De Marchis GM, Sefcik RK, Bruce R, Chhatlani A, Falo MC, Connolly ES, Agarwal S, Claassen J, Schmidt JM and Mayer SA, Does the Obesity Paradox predict Functional Outcome in Intracerebral Hemorrhage?, Journal of Neurosur- gery, 2018; 129(5): 1125–1129.
Reviews
She was awesome! So happy we found her!
SC - Redondo Beach - Jun 25,2019
She's wonderful
SC - Redondo Beach - Jun 06,2019
Very good easy to talk to
SC - Redondo Beach - May 28,2019
Dr. Aarti Chhatlani, MD, is a caring and knowledgeable Psychiatrist. She was thorough and patient during my appointment which made me feel comfortable and confirmed my belief that I was seeing the best doctor for my condition. The office is well appointed in a nice location and the Doctor's assistant, Sara, is very kind and responsive. I would definitely recommend SavantCare to my friends and family.
- Apr 05,2019
My first appointment to see Dr. Aarti Chhatlani, went very well. I immediately felt comfortable and at ease when being evaluated and she was incredibly supportive and professional. You can easily make an appointment with Sam the (Admin Assistant) at 650-690-2DOC. Thank you Dr. Chantlani and Sam for your help today and I look forward to my next visit.
SC - Redondo Beach - Dec 14,2018
One the best places that I have ever been to. It is clean, great area and quite. Best of all they provide little snacks as you wait for your appointment. Sonia Parikh is amazing saddly she is on fertnity leave. However, was able to be transfered over... to Arati Chhatlani the same day my appointment with Sonia was set in 10 mins. Great assistance from Savant assistant desk. Arati C. Was able to help me and give great information. Asked great questions upon my case and she cares about my progress in my journey. If you are looking for a MD who cares, is understanding, is educated and resourceful. She is great person to go to. The only feedback I have is to get better unpdates in cancellation through text and email.
SC - Redondo Beach - Dec 14,2018
Doctor was patient and very helpful.
SC - Redondo Beach - Oct 17,2018
This doc is very helpful and does understand the patient's disease symtomns, speakes in a very polite manner. The clinic is very neat and clean.
SC - Redondo Beach - Oct 10,2018
Great experiences can not be conveyed over few words. However, I'll try my best to do the same. I've approached her in my hour of need and she has went ahead and helped me a lot during my hardships. One of the best psychiatrist I've seen so far.
SC - Redondo Beach - Oct 10,2018
She has been very helpful and very informative when it comes to explaning the medications. To me a psychiatrist who is willing to do all of the above is good enough.
SC - Redondo Beach - Oct 10,2018
Dr. Chatlani is very helpful. She is very good with time management with her patients. She is very calm and listens to everything patiently.
SC - Redondo Beach - Oct 10,2018
I am fortunate enough to meet such a wonderful doctor. She is caring and understand my needs. I felt relaxed after my first visit.
SC - Redondo Beach - Oct 10,2018