Dr. Aarti G. Chhatlani, MD
Psychiatrist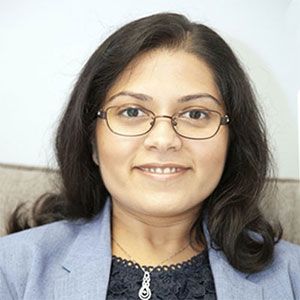 About
| | |
| --- | --- |
| Alumni of: | American University of The Caribbean School Of Medicine |
| Honorific Prefix: | Dr. |
| Given name: | Aarti |
| Family Name: | G. Chhatlani |
| Honorific Suffix: | M.D. |
| Job Title: | Psychiatrist |
| Affiliation: | Savant Care |
| Phone number: | 650 690 2DOC (362) |
| Fax number: | 650 590 4938 |
| Languages: | English |
| Email: | agc.admin@savantcare.com |
Education
Florida International University – BA in Psychology
American University of The Caribbean School Of Medicine – MD
Case Western University, Residency in General Adult Psychiatry
Strength
Creates patient-centered clinical management plan for mental disorders
Commands active patient engagement
Weighs multiple therapeutic options for patients
Location
Note:
*. We are not in-network with Blue Shield Covered California.

Affiliations and certifications
Delta Epsilon Iota
American Psychiatry Association
Honors and awards
National Residences Hall Honorary Award, Department of Housing and Residential Life (08/2008) (FIU), Miami, FL, USA
Excellences Muaro Leadership Award and Scholarship, Delta Epsilon Iota Academic Honor Society, Miami, FL, USA
Publications
1. N Dangayach, GM De Marchis, H Grewal, R Bruce, A Chhatlani, C Falo, ES Connolly, S Agarwal, J Claassen, M Schmidt, and S Mayer, "Does the Obesity Paradox predict Functional Outcome in Intracerebral Hemorrhage?," Journal of Neurosurgery May 24, 2017
Anticonvulsants as monotherapy or adjuncts to treat alcohol withdrawal: a systematic review, A Chhatlani, MD, E DeOreo, MD, SA Farheen, MD, G Manikkara, MD, MJ Setty, MD and R Tampi, MD, DFAPA, submitted and accepted for publication to Annals of Clinical Psychiatry
Use of Cariprazine in Psychiatric Disorders: Systematic Review, A Chhatlani, MD, SA Farheen, MD, MJ Setty, MD and R Tampi, MD, DFAPA submitted for publication to Annals of Clinical Psychiatry
Alcohol Use Disorder in the Primary Care Office Visit. Jaividhya Dasarathy MD, FAAFP, Juan Young MD, Aarti Chhatlani MD, Michael Raddock MD, Rajesh Tampi MD, MS, DFAPA, submitted for publication to The Journal of Family Practice
Work experience
Research Co-investigator at the University of the West Indies, School of clinical medicine and research, Department of Internal Medicine Nassau, Bahamas.
Research assistant at the Columbia Presbyterian Hospital/ Neurological Intensive Care Unit.
Teaching Assistant for psychiatry clerkship rotation at MetroHealth Case Western Reserve University
Aarti Chhatlani, MD is an adult psychiatrist at Savant Care, Inc. She graduated with a BA in Psychology from Florida International University and completed her residency training at Case Western Reserve University MetroHealth Program.
Aarti Chhatlani has vast experience in treating a wide range of complex mental problems like schizophrenia, ADHD, OCD, panic disorder, anxiety, etc. She has written several medical publications, collaborated in many research projects, and has mentored medical students and junior residents. Her future goal is to develop individualized treatment plans to address various mental and physical conditions.