Dr. Anita Mukherjee, EDD
Psychologist & Director of Therapy Technology
ALUMNI OF:
Indian Institute of Science & Argosy University
LANGUAGES:
English, Hindi, Bengali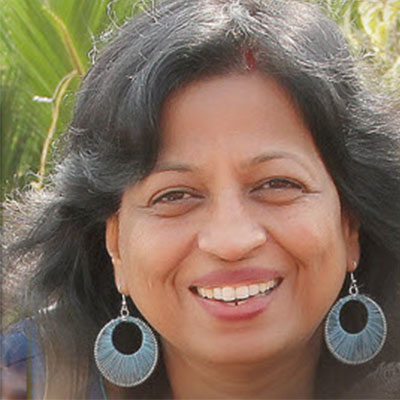 SPECIALITIES
Working with hi-tech professionals
Depression
Stress & Anxiety
Bipolar disorder
Anger management
Trauma and PTSD
Education
Doctor of Education in Counseling Psychology, Argosy University
MS in Computer Science
B.E., Computer Engineering. Indian Institute of Science, Bangalore
B.S., Physics (Honors). St. Xavier's College, Calcutta University
Affiliations and certifications
Santa Clara County Psychological Association: Former Board Member & Local Advocacy Network Representative
Sourcewise (Area Agency on Aging): Former Board Member
Former PMI Certified Project Management Professional
Former trainer for Applied Suicide Intervention Skills Training (ASIST)
Facilitator for Wellness Recovery Action Plan (WRAP)
In-Network Insurance
Medicare Inc
Aetna Inc.
Alignment Health
MHN Inc.
Healthnet Inc
Cigna Inc
Tricare Inc
Humana Inc
Anthem Blue Cross of California Inc

---
Dr. Anita Mukherjee is a dedicated and compassionate psychologist with a unique background in computer engineering and a passion for helping others overcome their personal challenges. After achieving her dream of becoming a computer engineer and gaining invaluable experience as a software architect, project manager, and entrepreneur, Dr. Mukherjee discovered her true calling in the field of psychology. This revelation came through extensive volunteer work with at-risk populations at various non-profit organizations, ultimately leading her to obtain her license in psychology.
Driven by her belief that many individuals suffer needlessly, preventing them from reaching their full potential, Dr. Mukherjee focuses on tapping into her clients' hidden positive skills to help them heal, adapt, and reinvent themselves. She utilizes a range of therapeutic modalities, including Cognitive Behavior Therapy (CBT), Dialectical Behavioral Therapy (DBT), solution-focused, motivational interviewing, positive psychology, and spiritual and insight-oriented approaches, all with the aim of providing holistic and integrated healthcare services.
With a strong commitment to serving the senior population, Dr. Mukherjee's doctoral research focused on the quality of life of Indian seniors who immigrate to the United States to reunite with their adult children. She has continued her work with seniors in various capacities. She has served as a Board member with Sourcewise, the Area Agency on Aging in Santa Clara County, and a Local Advocacy Network Representative with the Santa Clara County Psychological Association.
Dr. Mukherjee has held multiple roles and affiliations throughout her career, including Adjunct Faculty at John F. Kennedy University, trainer for Applied Suicide Intervention Skills Training (ASIST), and Director of Education at Crestwood Behavioral Health Inc. She also co-founded NGS Solutions, a software development company.
Dr. Mukherjee's dedication to her client's well-being, diverse professional background, and commitment to serving the community make her an exceptional psychologist. Her expertise and genuine care for her patient's mental, physical, and spiritual wellness have established her as a trusted professional in her field.
Providers In Los Altos Mental Health Clinic