Dr. Anita Jhunjhunwala Mukherjee
Psychologist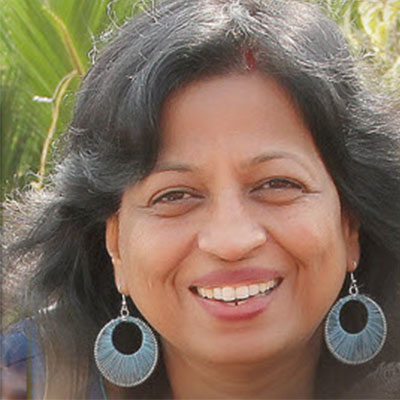 About
| | |
| --- | --- |
| Alumni of: | Indian Institute of Science & Argosy University |
| Honorific Suffix: | Dr |
| Given name: | Anita |
| Family Name: | Mukherjee |
| License: | PSY 28771 |
| Phone number: | 650 690 2DOC (362) |
| Fax number: | 650 590 4938 |
| Languages: | English, Hindi, Bengali |
| Email: | ajm.admin@savantcare.com |
Expertise
Working with hi-tech professionals
Depression
Stress & Anxiety
Bipolar disorder
Anger management
Trauma and PTSD
Location
Admin assistant
Name: BG
Phone: 650-479-1DOC
Email: ajm.admin@savantcare.com
Treatment Orientation
Cognitive Behavioral Therapy (CBT)
Dialectical Behavioral Therapy (DBT)
Solution focused
Motivational interviewing
Holistic and integrated healthcare services
Spiritual and insight-oriented approaches
Affiliations and Certifications
Santa Clara County Psychological Association: Board Member & Local Advocacy Network Representative
Sourcewise (Area Agency on Aging): Board Member
PMI Certified Project Management Professional
Trainer for Applied Suicide Intervention Skills Training (ASIST)
Facilitator for Wellness Recovery Action Plan (WRAP)
Publications
After achieving her dream to be a computer engineer, Dr. Mukherjee worked in the software industry of different countries for many years as a software architect, a project manager, and as an entrepreneur. Subsequently, while volunteering extensively with at-risk population at different non-profits, a desire to acquire the necessary professional tools propelled her to complete a doctorate in counseling psychology, and she is now a licensed psychologist. This enables her to work for the causes that she believes in, and focus on mental health and quality of life.

Dr. Mukherjee believes that there is a lot of avoidable suffering which blocks individuals from realizing their true potential. Drawing on your existing hidden or manifest positive skills, Dr. Mukherjee helps you in healing so that you can adapt, transform and reinvent yourself.

In therapy, depending on the client's needs and goals, Dr. Mukherjee draws from various modalities including cognitive behavior (CBT), dialectics, solution focused, spiritual, and insight-oriented approaches. Her aim is to provide holistic and integrated health services with a focus on mental, physical, and spiritual wellness of the patient.