Dr. Vidushi Savant, MD
Psychiatrist

(A122724)
ALUMNI OF:
Stanford University
LANGUAGES:
English, Hindi, Punjabi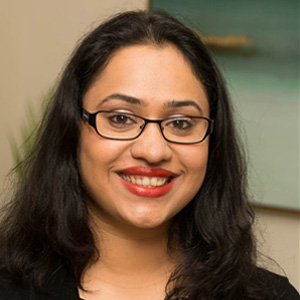 Expertise
PTSD
Schizophrenia
Depression
Bipolar disorder
Cognitive behavioral therapy
Interpersonal therapy
Treatment Orientation
Psychopharmacology
Treating critically ill patients with various psychiatric conditions
Healing psychiatric disorders of cancer patients, heart patients and diabetic patients
Treating seniors with cognitive impairment, dementia and delirium
Healing patients with peri-partum mental health disorders
Work experience
Cofounder and Director at Savant Care – 08/2014- Present
Clinical instructor at Stanford Hospital – 12/2014 – 5/2014
Clinical instructor at Stanford Hospital – 6/2014 – Present
Education
Bachelor of Medicine and Bachelor of Surgery, Medical School – Government Medical College, Patiala
Residency in Adult Psychiatry, Loyola University Medical Center
Fellowship in Psychosomatic Medicine, Stanford Hospital
Affiliations and certifications
Psychosomatic Medicine fellowship from Stanford Hospital.
Clinical faculty at Stanford.
ABPN- Board Certification in General Psychiatry
ECFMG Certification
Awards and honors
Nominated and chosen as a member of Medical Honor Society Alpha Omega Alpha.
Received research awards and certificates for excellence clinical work from the Department of Psychiatry at Loyola University Medical Center.
Board certified in adult psychiatry by American Board of Psychiatry and Neurology.
Board certified in psychosomatic medicine by American Board of Psychiatry and Neurology.
In-Network Insurance
Healthnet
Tricare
AETNA
MHN
Anthem Blue Cross of California
Blue Shield of California (We are not in-network with Blue Shield Covered California)
Blue Cross Blue Shield
Alignment Health
Humana
Cigna
Optum Behavioral Health

Dr. Vidushi Savant, MD is a Stanford trained psychiatrist, and Director and Co-founder of Savant Care. She received her Psychosomatic Medicine subspecialty training at Stanford Hospital, and completed her residency training in Adult Psychiatry at Loyola University Medical Center in Chicago, Illinois. She received her medical school education from Government Medical College in Patiala, India.




During her residency training at Loyola, Dr. Savant became particularly interested in psychiatric issues in the medically ill population. This led her to pursue her Psychosomatic Medicine Fellowship at Stanford Hospital and Clinics where she gained proficiency in treating psychiatric conditions in the critically and/or chronically ill medical populations. Her expertise includes (but is not limited to) treatment of psychiatric illness in cancer patients, organ transplant patients (heart, liver, kidney, bone marrow etc), cardiac patients with disorders such as cardiomyopathy, congestive heart failure and patients with other chronic medical conditions such as diabetes, renal failure on dialysis, neurological conditions such as stroke, multiple sclerosis, epilepsy. She is also well-versed in treating psychiatric conditions during pregnancy and lactation, such as post- partum depression and post-partum blues. She is also experienced in treating elderly patients with mild cognitive impairment, dementia and delirium who may be experiencing psychiatric symptoms.
In addition to her specialization in psychosomatic medicine, Dr. Savant is trained to manage general psychiatric illnesses such as Schizophrenia, OCD, Bipolar disorder, Depression, Panic disorder, PTSD, Generalized anxiety disorder and many more. She has a range of training in psychotherapies for interpersonal problems, grief, and marital issues. Her particular strengths are psychopharmacology, cognitive behavioral therapy, and interpersonal therapy.
Throughout her training, Dr. Savant has been involved in various on-going research projects. She received numerous achievement awards in research and certificates of appreciation for clinical work from the Department of Psychiatry at Loyola University Medical Center. She was nominated and inducted as a member Medical Honor Society Alpha Omega Alpha during her residency by the caucus of student members of the society based on her values of leadership, character, community service, and professionalism. She remained actively involved in medical student and resident teaching throughout her residency and fellowship at Stanford.
Dr. Savant is a Clinical Faculty at Stanford University. She will also continue her work with STAMP ("Stanford Therapy and Mental Health Professionals") to further the social cause of decreasing stigma related to mental illness.
Reviews
We have consulted with Dr. Vidushi Savant about once a month for treatment of our Bipolar I condition since April 2016, and are consistently impressed by her quality of care. (We are plural, meaning multiple personalities, and usually speak using plu...ral pronouns.) Dr. Savant is whip smart, thinks creatively outside of the box while remaining grounded in scientific method, and knows her pharmacology. Of central importance to us, given these qualities, is that she can handle our idiosyncratic hypersensitivity to and intolerance of medications that has baffled all of our many previous psychiatrists, makes us difficult to treat, and in her words, her most "clinically challenging" patient. Dr. Savant is the first psychiatrist who has been able to ascertain what, when, and how much to prescribe to us. If we were an easy to treat patient, a bi-monthly office consult would suffice, with little communication in between. As is the case, Dr. Savant periodically extends herself to us to a considerable degree between monthly office appointments, using her clinic's Health Insurance Portability and Accountability Act (HIPPA) compliant (i.e. confidential) patient web portal, through which patients can message their doctors and receive replies, and also upload and download documents. On this note, she is keen to maintain continuity of care with our other clinicians, so she reviews labs ordered by them that we upload, as they might be relevant to her prescribing. For our part, we try to keep our portal comments succinct, especially if we are manic or hypomanic and thus prone to more "pressure of speech" styled verbosity than we normally are. As the French philosopher and scientist Blaise Pascal said, "I have made this longer than usual because I have not had time to make it shorter." Also, Dr. Savant respectfully collaborates with us rather than copping the "doctor knows best" attitude that many physicians take toward their patients. One disadvantage of her SavantCare clinic for us is that it does not have an after hours psychiatrist on call. But the average psychiatric patient whose body does not totally flip from medications like ours does will not have a problem with this. Dr. Savant aside, the only downside to the SavantCare *clinic* is that it relies on high-tech that often fails. Some aspect of the above noted web portal is on the fritz about 5% of the time. The clinic's Android phone app never worked on our Android phone even though the phone's operating system was compatible, and the iPhone app only partly works. The self-service vitals machine in the lobby, which records one's weight, body mass, temperature, blood pressure, etc., is usually out of paper, so one cannot get a printout, and there is no way to access the data in one's clinic account. The iPad app in the lobby that patients use to sign in has rarely worked in the past three years. But while these constant tech glitches are annoying, we deal with them, given that we are getting excellent care from Dr. Savant. Last, chronic negative reviewer Kathryn B. is grasping at straws. In her updated April 10 review she winges, "The recent article in the Los Altos Town Crier ("Local psychiatrist claims bogus city award on employer website" 04/03/19) about fake awards being posted for Dr. Parikh (who is the doctor I saw), once again illustrates the unethical behavior of Savant Care." However, the Town Crier updated their article on April 10 to indicate that SavantCare had, like many other businesses, fallen victim to a nationwide scam in which fraudsters convince businesses that they have been voted the "best of" whatever city they are doing business in, and can buy a plaque saying so for $149 to $229 [1]. The updated Town Crier article includes the fraudster's awardedbest.org web address, and a link to a Better Business Bureau article, "Award Scam A Big Loser," warning business about the scam [2]. Some people like Kathryn just have an axe to grind. [1] losaltosonline.com/news/… [2] bbb.org/northwest-pacifi…
SC - Los Altos - May 29,2019
I have been seeing Dr. Savant for close to two years. She has provided excellent care in all respects. She is caring and compassionate and also knowledgeable in regards to new medications and interactions between medications. I also saw Dr. Emaya Anb...alagan on two occasions and was equally impressed with the quality of her care. The only negative experience I've had with the practice was a minor technology glitch but Savant Care acknowledged the problem and worked to resolve it quickly. I've seen other psychiatrists in the past and in comparison, the care I've received from Dr. Savant is far superior. She has made a significant impact on my life.
SC - Los Altos - Feb 03,2019
I am a patient of Dr. Savant for over two years now and have nothing but good words about her and her staff. She is one of the most polite and down to earth doctor I have ever come across. She is a great listener too. My life has changed in these two... years and I give credit for that too Dr. Savant. She has made me to learn thinking about things from a different perspective. I am now a mother and she is helping me a lot dealing with that as well. I can keep writing all day about her. LOL. Dear Dr. Savant, you are a blessing to many in the community. Thank you for the great work you and your team are doing. I am with you in your mission!
SC - Los Altos - Mar 08,2018
Dr. Savant is exceptional at what she does - compassionate, dedicated, committed to improving the lives and wellbeing of her patients. She listens and really care. Provides excellent input without being judgmental or preachy. Also very highly knowledgeable about psychopharmacology, particularly as it pertains to those with medical co-morbidities. Her staff is also great, very responsive and professional. Highly recommend.
SC - Los Altos - Dec 12,2017
Thank god for brilliant physicians like Dr. Savant.
SC - Los Altos - Dec 01,2017
Very professional, kind and considerate.
SC - Los Altos - Dec 01,2017
Dr Savant was both knowledgeable and professional. She was very thorough, taking the time to listen to my history and my concerns. She explained different treatment options and the pros and con's of each so that I could make an informed decision. I c...an tell that she genuinely cares about her patients and wants what's best for their long term health and well-being. She also worked with me to schedule my appointment so that it worked with my schedule and reached out to me personally to confirm. I highly recommend this doctor and her practice.
SC - Los Altos - Dec 01,2017
I recently turned 30 years old and have had a particularly difficult time. I usually am a very positive, optimistic person however this birthday has sent me into a bit of depression. I talked to my family about how I have been feeling and they sugg...ested the possibility of a psychiatrist. I had never been to one before and didn't realize how difficult it would be to find a doctor that accepted my insurance (Aetna). I was unable to find anything I was satisfied with nearby in my hometown of Fremont so I widened my search to other cities. I finally discovered Savant Care, who accepted my insurance and called to discuss my situation. I was a little nervous but was pleasantly surprised by the members of staff that helped walk me through the process with genuine care. Although I had to travel to Los Altos, Dr. Savant made me very pleased with my decision. She was able to put things in perspective and was appreciative that he didn't immediately resort to meds and making me a regular patient. I did not feel rushed or like I was being diagnosed before getting to know me and my situation. In the end, I couldn't be more happy with how everything went. I never thought I would see a psychiatrist but after my experience and the results I have seen in my mood and attitude, I wouldn't change a thing. On a side note there is no elevator available so anyone who has trouble climbing stairs might run into an issue.
SC - Los Altos - Nov 24,2017
I was a bit nervous about my initial conversation with a provider, but Dr. Savant immediately put me right at ease. She has many years experience and it really shows both in her compassion and in her wealth of knowledge around treatment options. What... I like the most about Dr. Savant's approach is her focus on holistic assessment and treatment options. She seriously doesn't operate on any assumptions and doesn't take things for granted. This helped win my trust because I felt treated like a unique individual with options tailored to my needs and experiences. We covered topics like diet, exercise habits and sleep routine, which some providers completely overlook. Expect that the team at the Savant Care Clinic will work collaboratively around your care, so you may end up working with multiple providers. A big plus with them is that they've developed their own healthcare app to help guide and track the progress of your treatment, something I hadn't encountered before in a formal healthcare setting.
SC - Los Altos - Oct 17,2017
I have been going Dr. Savant for almost 9 months now and I feel so fortunate to have found her. She is excellent at what she does. She's not only a brilliant doctor--.she's very intuitive and has great instincts. She's also very patient and never giv...es up! It's taking me awhile to get where I want to be and I feel like she is right there with me. Another important aspect of going to her is her team of people who are always available to help renew prescriptions and get messages to her. They are truly amazing, kind and responsive. I went to her because I saw a dramatic change in a friend of mine and decided to to give her a try. I moved to San Francisco from New York and had tried several doctors here. I was not impressed so I just resorted to calling my doctors back in NY for treatment and phone consults. I am doing so much better thanks to her and I like her so much that I go from San Francisco to Los Altos to see her. I just can't say enough about her. She also has a team of therapists that she works with at Savant Care and I have been very happy with her recommendations. They all work together so you really get cohesive treatment.
SC - Los Altos - Dec 26,2016
She is amazing! Objectively listens and takes everything you say seriously and into consideration. I had trouble scheduling my first appointment with her previous assistant because he lost all my info twice and I almost gave up, but I'm so glad I didn't! Even if you have issues with the office, keep pushing through because Dr. Savant is wonderful (and, incidentally, scheduling is way easier after the first appointment).
SC - Los Altos - Mar 29,2016
I have seen 3 PhD therapists in my life and decided to try an MD for the option of medications when I moved to SF 1 year ago. I have been seeing Dr. Savant for 6 mos and am writing this review now bc my initial benefits have not only been sustained b...ut continue to grow. Though with her guidance I have trialed medications we decided together that I do therapy only for now. This is what is great- she has exceptional evidence-based knowledge about medications, but she works with me to cater to my specific needs/strengths. With Dr. Savant's holistic care, I have gained significant understanding about myself and my interactions with others that has transformed my life and health. She is incredibly compassionate and approachable but assertive and insightful. Everyone seems to have unique styles when it comes to mental health, but I want to share that I personally have benefitted immensely from Dr. Savant's care and thank her for improving my life in ways that I never knew were possible before.
SC - Los Altos - Apr 21,2015
As best as they come by. Dr. Savant was more than welcoming and her mindfulness approach in helping me through every step of my treatment was crucial. I've seen my fair share of psychiatrists, and she is by far exceeded all my expectations.
SC - Los Altos - Mar 12,2015
Providers In Los Altos Mental Health Clinic